AV over IP (AVoIP) is a method of distributing audio, video, control signals and more over standard IP Networks utilizing a variety of compression technologies to encode and decode transmissions between source and display depending on network demands and desired image quality.

AVoIP was initially used in a variety of ProAV applications due to its low bandwidth characteristics, compatibility with existing network infrastructures and cost-efficient scalability for large footprint arrays.

However, AVoIP technology has evolved to include low and zero latency transmissions, seamless switching and lossless video quality supporting 4K UHD, high frame rates, 4:4:4 and HDR to become an increasingly viable alternative to conventional AV transmission over distance technologies for both residential and commercial applications.
---
---
Low latency 4K HDR over 1GbE with image scaling, multichannel audio and video wall processing using JPEG 2000 technology.

The NetworkHD™ 400 Series offers stunning 4K HDR video, multi-channel audio support and 4K/2K auto-scaling to seamlessly handle distribution of mixed resolution sources, content and display devices over a 1GbE network.

Featuring incredibly low latency matrix switching and video wall capabilities, the 400 Series is the ideal AV over IP solution for systems where high quality and low latency are key requirements; making it perfect for both residential and commercial applications.
The value of AV over IP
Highly scalable

Network based systems can accommodate very large numbers of sources and end points and can distribute content over long distances.

Cost effective

Routing content through computer network switches offers a more cost effective alternative to traditional AV matrices.

Flexible management

With AV-over-IP, IT professionals can leverage their data networks as the transport infrastructure for AV and manage their AV network with familiar switching technology.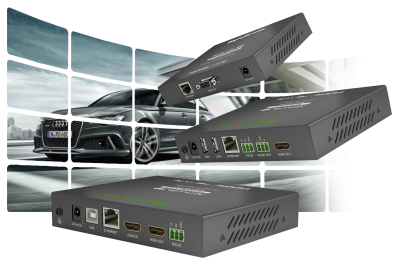 Request a free
consultation with us
CONTACT US NOW
Give us a brief outline of your project and one of our consultants will come back to you. Or call us on 01904 448 777